Search for Our Next Leader
"O God, by whom the meek are guided in judgment, and light riseth up in darkness for the godly: Grant us, in all our doubts and uncertainties, the grace to ask what thou wouldst have us to do, that the Spirit of wisdom may save us from all false choices, that in thy light we may see light, and in thy straight path may not stumble, through Jesus Christ our Lord. Amen." – Book of Common Prayer, p. 832
In the coming months, and with the guidance of the Diocese of Olympia and Bishop Greg Rickel, our parish will search together for our next leader. Saint Margaret's is blessed with a growing and energetic congregation, one full of community spirit and a love for God – a congregation who can draw upon this transition period as a time of reflection and joyful expectation. The search process is a linear one, as outlined below, with each step requiring time and consideration. We invite every member of the Saint Margaret's family to join us on this journey.
Where We Are In The Process
Saint Margaret's Interim Priest in Charge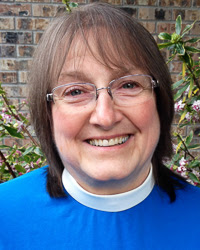 The Rev. Canon Dr. Marda Steedman Sanborn
Marda has most recently been the Rector of St. James in Kent for the past ten years, the Secretary to Convention, and one of the Trainers for the College for Congregational Development. She was ordained to the Diaconate on January 27, 1992, and served a short time at St. Andrew, Tacoma, before being moved to St. Mark's Cathedral. She was ordained to the priesthood on November 22, 1996, and accepted a call to be Associate Rector at St. James, Kent, beginning Ash Wednesday, February 12, 1997.
Marda has been married to Doug for 25 years and they have a daughter Melissa who recently graduated from WSU with a degree in chemistry; Melissa is continuing her studies at Bellevue College. They have a Schnauzer and Cocker Spaniel which rounds out their family.
You may email The Rev. Canon Dr. Marda Steedman Sandborn at mssanborn@saintmargarets.org
Monthly Updates from the Wardens