Search for Our Next Leader
"O God, by whom the meek are guided in judgment, and light riseth up in darkness for the godly: Grant us, in all our doubts and uncertainties, the grace to ask what thou wouldst have us to do, that the Spirit of wisdom may save us from all false choices, that in thy light we may see light, and in thy straight path may not stumble, through Jesus Christ our Lord. Amen." – Book of Common Prayer, p. 832
In the coming months, and with the guidance of the Diocese of Olympia and Bishop Greg Rickel, our parish will search together for our next leader. Saint Margaret's is blessed with a growing and energetic congregation, one full of community spirit and a love for God – a congregation who can draw upon this transition period as a time of reflection and joyful expectation. The search process is a linear one, as outlined below, with each step requiring time and consideration. We invite every member of the Saint Margaret's family to join us on this journey.
Where We Are In The Process
Commission Profile Committee: completed June 2019
Call an Interim Priest In Charge: completed August 2019

Rev. Canon Dr. Marda Steedman Sanborn (see below)

Update Parish Profile: paused 8 months due to COVID-19 outbreak, completed November 2020
Commission Search Committee: completed November 2020
Gather Applications: ongoing, through the end of 2020
Review Candidates: will begin in 2021
Interview and (optionally) Visit Candidates
Nominate and Approve a Candidate
Commission Transition Committee
Saint Margaret's Interim Priest in Charge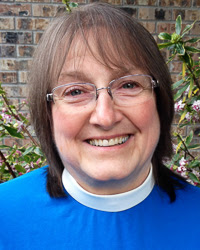 The Rev. Canon Dr. Marda Steedman Sanborn
Marda has most recently been the Rector of St. James in Kent for the past ten years, the Secretary to Convention, and one of the Trainers for the College for Congregational Development. She was ordained to the Diaconate on January 27, 1992, and served a short time at St. Andrew, Tacoma, before being moved to St. Mark's Cathedral. She was ordained to the priesthood on November 22, 1996, and accepted a call to be Associate Rector at St. James, Kent, beginning Ash Wednesday, February 12, 1997.
Marda has been married to Doug for 25 years and they have a daughter Melissa who recently graduated from WSU with a degree in chemistry; Melissa is continuing her studies at Bellevue College. They have a Schnauzer and Cocker Spaniel which rounds out their family.
You may email The Rev. Canon Dr. Marda Steedman Sandborn at mssanborn@saintmargarets.org
Rector Search News
In April the Profile Committee completed and submitted the St. Margaret's Profile to the Diocese for Bishop Rickel's approval. At that time and in view of the disruption caused by the COVID-19 pandemic, the Bishop suspended all rector search processes … Read More
Over the next month we will be having multiple "Conversations at St. Margaret's: a call to our future" gatherings hosted here at St. Margaret's and in people's homes on various dates and times. There are signup sheets in the Narthex and … Read More
PLANNING OUR FUTURE TOGETHER We are inviting you to complete the Church Assessment Tool (CAT), an on-line instrument that will help gauge the strength, vitality, and trends in our church. The information gained from this assessment will be valuable in … Read More
We are transitioning into a period of change in our St. Margaret's faith community; we need to find a new rector to lead us in our faith journeys. The process of calling a rector involves providing information to potential rectors. … Read More
Your Wardens are pleased to announce that The Rev. Canon Dr. Marda Steedman Sanborn has been engaged as Interim Priest in Charge, effective August 1st. She will work half time at St. Margaret's through the month of November while she … Read More
On June 11, the Vestry appointed seven people to serve on a Profile Committee as we begin the process of calling a new rector: Shauna Backus (chair), Mary Feltrup, Andrea Feist, Ed Leonard, Conrad Lee, Dave Hoffmann, and Davindia Steele. … Read More
Hello Friends, As Saint Margaret's begins the process of calling our next Rector, we want to keep you informed about that process. Today, we are sharing an article – "Called or Hired?" – about the nature of calling a priest … Read More
At the May 14th Vestry meeting, the Canon to the Ordinary, the Rev. Dr. Marda Steedman-Sanborn gave an overview of the process to call a new rector. The Vestry responsibilities in this process include appointing members to three committees: A … Read More